Mornington Peninsula Koala Conservation
We seek to encourage and assist landholders to protect and enhance existing vegetation and highlight how everyone can better protect the peninsula's koala population.
MISSION
To communicate the challenges koalas face and to motivate and support landholders to protect and increase suitable habitat, ensuring we can sustain a healthy koala population on the Mornington Peninsula

VISION
We will actively raise awareness to protect indigenous vegetation and work to restore koala habitat, securing the koala population on the Mornington Peninsula for future generations.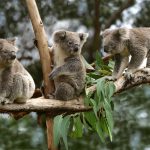 GROUP EFFORT
Together, we can protect the peninsula's koala population by restoring and enhancing existing vegetation and connecting remaining koala habitats.

WHO WE ARE
We are a registered Landcare group and part of the Mornington Peninsula Landcare Network.  We work closely with the Mornington Peninsula Shire, Parks Victoria, other Landcare groups and private landholders to improve koala habitat.
Mornington Peninsula Koala Conservation acknowledges the Bunurong / Boon Wurrung peoples of the Kulin Nation, the traditional custodians of the land and waters on which we live.
We recognise their continuous connection to culture, community and Country, and we pay respect to their elders past, present and future.
Do you care about koalas like we do? Get involved!