Trees for Koalas on the Mornington Peninsula
The most important thing is to check which gum trees are suitable for your area.  Check the Mornington Peninsula Shire's plant guides:  https://www.mornpen.vic.gov.au/Activities/The-Briars/Shire-Briars-Nursery
Manna gums are a favourite tree of koalas. Depending on where you live on the Mornington Peninsula, you can plant the following:
Coastal Manna Gums (Eucalyptus viminalis subspecies pryoriana) – These gum trees are medium sized, fast-growing and excellent shade trees, providing food and habitat for koalas, birds, sugar gliders, possums and caterpillars.
Manna Gums (Eucalyptus viminalis subspecies viminalis).  These (non coastal) Manna gums grow larger and are found further inland.
Both Manna gums are the preferred food tree for the koalas.
Next in line are the Swamp Gums (Eucalyptus ovata), which are small to medium-sized trees found in wet areas which also provide important food for nectar-feeding birds in winter. The trees have beautiful oval shaped leaves.
Other Eucalypts of value to the local koalas are:
Narrow-leaved Peppermint Gum (Eucalyptus radiata)
Messmate Stringybark (Eucalyptus obliqua)
Silver-leaved Stringybark (Eucalyptus cephalocarpa)
Snow Gum (Eucalyptus pauciflora) (Mt Martha/Moorooduc region only)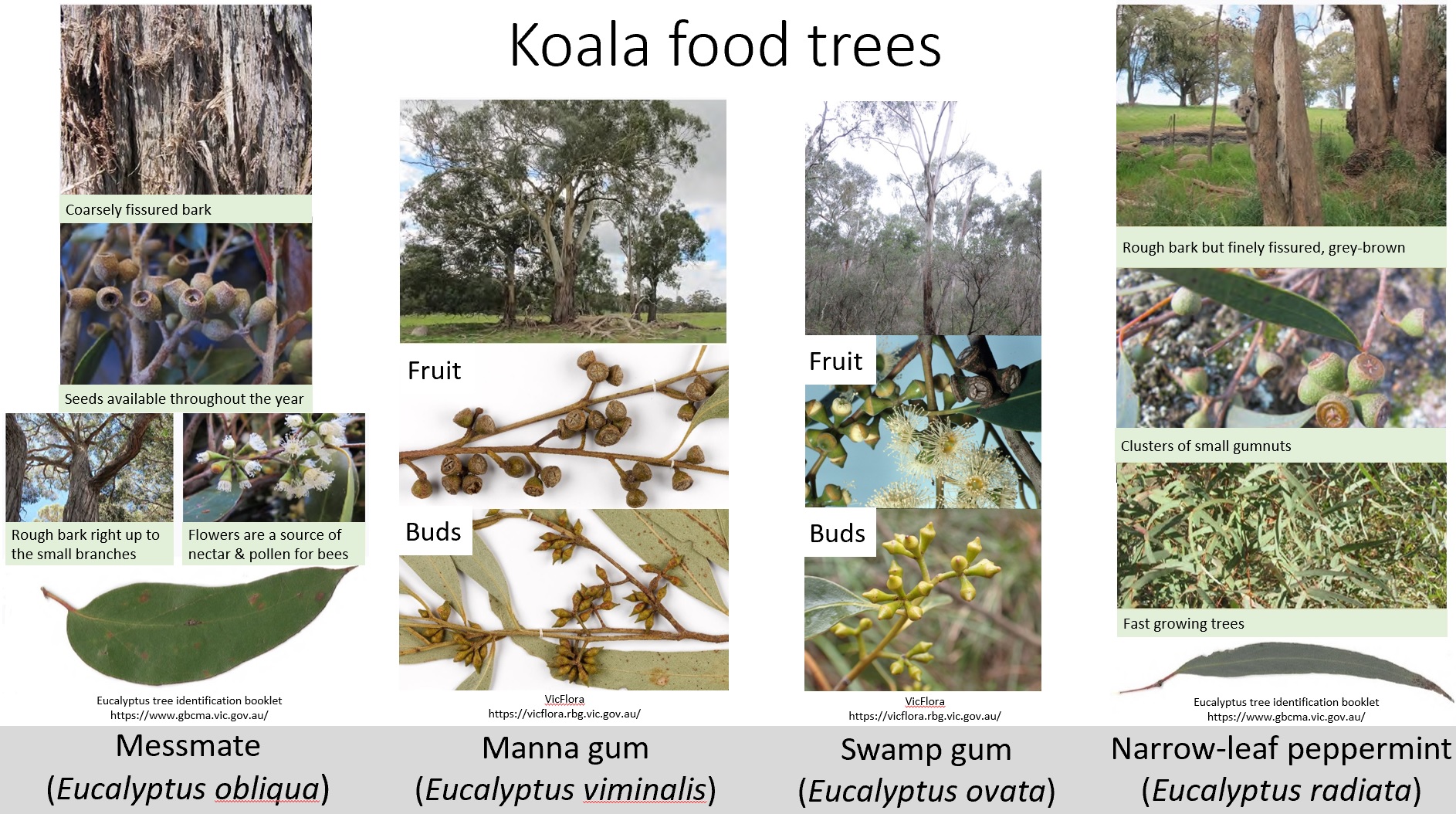 Koala Preferred Eucalypts